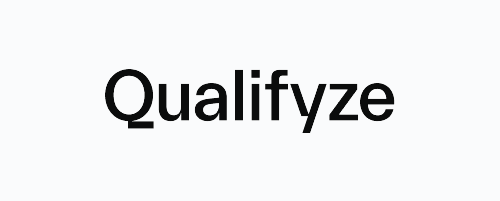 Qualifyze is a third-party provider of global auditing services for pharmaceutical companies and supplier qualification and has operated audits in more than 65 countries. The company manages a high-quality, global audit platform, housing the largest database of supplier compliance data in the world and contributing to more transparent and secure supply chains. Among their own client base, you can find manufacturers of APIs, excipients, packaging, and FDFs, but also distributors or shipping companies and software suppliers. Their main goal is to simplify the audit process with experienced pharmaceutical industry specialists.
Client headquarter:
Germany & Spain
Countries targeted with our activities:
Worldwide
Languages covered:
English, German
The appearance of several SEO technical issues on the English and German website which had to be fixed
The client's website had only very limited organic traffic, which was to be increased
Ensuring that all pages maintain their SEO ranking during the migration process of the redesign
Support during the rebranding process from both SEO and UX viewpoints
Extended version
The two main goals of Qualifyze were fixing all the technical SEO problems the website had and boosting and increasing the organic traffic and search engine ranking.
Throughout the collaboration, the client wanted to rebuild the website's overall appearance and content through a redesign and migration process. As a result, they requested guidance on the best approach to this migration for the website in English and German from an SEO and UX point of view.
360° Technical SEO Audit:

Checking 180+ data points to validate if their website is built according to Google's guidelines and beyond and giving concrete, prioritized instructions on how each issue should be fixed

Keyword Research:

Analysis of primary, secondary, and semantic keywords in the client's niche industry

Content Brief:

Creation of specific SEO briefs explaining thoroughly how to structure the articles on the client's website and which headlines, secondary keywords, and FAQ snippets should be used for optimized SEO content

On-page Optimisation:

Validating the content quality by using correlational SEO techniques

Ensuring the migration process of the new pages was following

SEO best practices
SEO Consulting

on specific technical and strategic requests
Extended version
22tribes helped solve the company's challenges by:
Provided comprehensive

SEO support

throughout a 6+ months partnership

Conducting two full

SEO Audits

by checking more than 180 data points on their site at both the beginning and at the end of the contract

Doing an extended

SEO keyword research of more than 90

different keywords about the specific pharmaceutical industry

Creation of

content briefs

for 14 different keywords, which included several secondary keywords, a table of contents, FAQs to optimize the articles, and an estimation of the number of words that should be used

The client wrote articles using the provided SEO briefs, which we then reviewed both prior to and after publication to

ensure compliance

with on-page SEO guidelines

Support on UX and SEO

for the customer's rebranding to their current pages

Extraction of available URLs

in English and German in order to make sure all pages were either migrated or proper redirects were placed

Creation of new

SEO metadata

for all the new pages

Feedback

on the customer's new website structure, FAQ section, and the new pages published after the migration

Creation of

best practice documents

on why and how the client should structure their pages and how they can specifically improve the request page on their website

Creation of an

audit list

for which we checked the search volume of 90+ pharmaceutical companies in order to give guidelines on what URL structure, company description, and alt text to use

Provided

continuous feedback

and consulting on specific technical SEO questions

Creation of an SEO dashboard for an SEO KPI improvement overview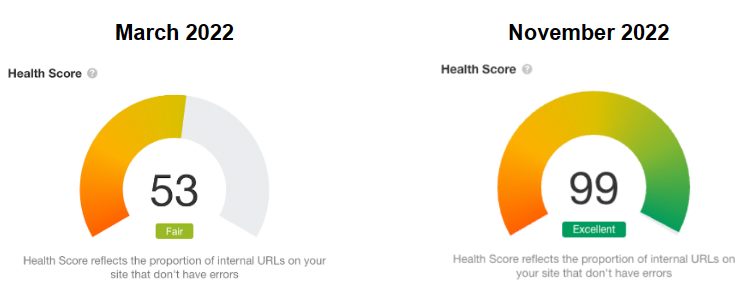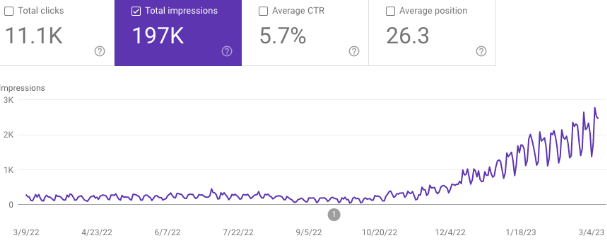 With 22tribes' support, the company was able to achieve:
Significant

increase in Ahrefs site health from 53 to 99

thanks to the 2 technical SEO audits conducted in March and October 2022

Significant SEO traffic growth

 

from March to December 2022

The

number of ranking keywords increased from around 63 to 270

by around 330% due to the published SEO content which was written and optimized based on the content briefs we provided after creating a niche keyword research for the pharmaceutical industry

Due to the increased amount of ranking keywords, the

SEO impressions went up by more than 80%

since the inception of our SEO collaboration

During our activities, a close competitor lost significant amounts of organic traffic
Extended version
We provided comprehensive SEO support throughout our collaboration and were able to achieve several notable results from a SEO standpoint: 
Thanks to two full SEO audits, continuous consulting, and explanations on how to examine the fixes during bi-weekly meetings, the client increased their Ahrefs site health from 53 to 99. 
They also grew the number of ranking keywords, and both SEO traffic and impressions significantly increased due to the research of 90+ industry-specific keywords and the creation of several SEO content briefs which included on-page recommendations such as secondary keywords, content outline, and FAQs. 
In total, the client could achieve a significant increase in SEO traffic and the number of organic ranking keywords went from 63 to almost 270 by around 330%. Also, the SEO impressions grew by more than 80% and further growth of it was very likely during several more weeks after the collaboration.
In addition, the client will have several best practice guides we created available on how to improve their request page and suggestions of how and why they should use a shorter page on their website.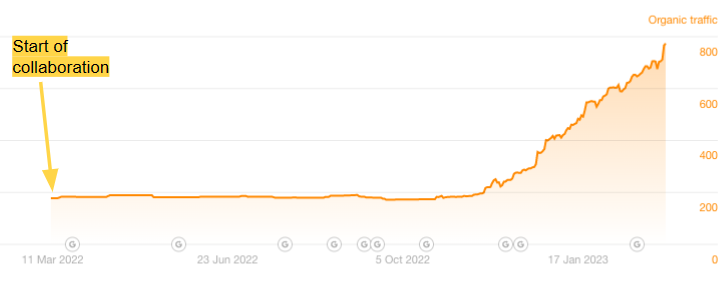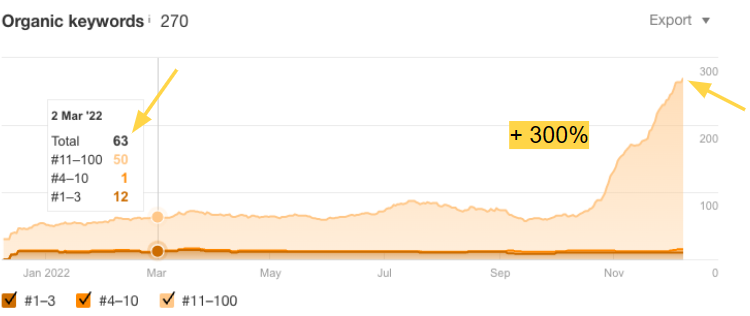 "22tribes was an absolute pleasure to collaborate with. They provided not only valuable feedback and strategic advice around our SEO, UX, and content needs. Their guidance and support felt like an extended part of our (very modest) marketing team, and they did everything they could to ensure our success."
Demi Pradolin, Brand and Content Marketing Manager at Qualifyze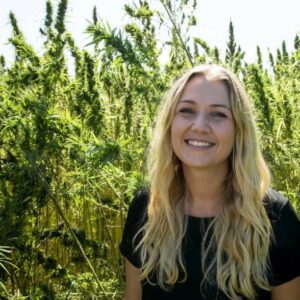 If you want to get in touch with us regarding a complete client list or how we can help your organisation, drop us a line. We'll get back to you as soon as possible!
You can also contact us via hi@22tribes.com